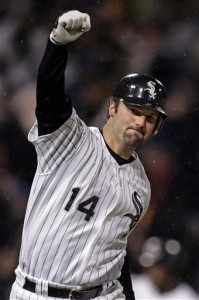 The White Sox wrapped up 2010 yesterday in a meaningless yet very emotional game.  Did we see our captain play his last game in a White Sox uniform?  As the crowd chanted PAUL-IE PAUL-IE and Konerko stepped out for his curtain call late in the game, we all had to wonder if that was the last time he will ever step out of the White Sox dugout.
The White Sox finished in second place with an 88-74 record, six games back of the Cake Eaters.  In my mind, you can't have a truly successful season unless you make the playoffs but with that said, this season was hardly a disappointment.  You may recall me earlier in the season talking about what we needed to do to get to the magical 88 win mark that typically wins you the  A.L. Central division….well we got there in a wild up and down way but the Twins were just too good.  When a team wins 94 games in the Central without their former MVP and top 3 Closer, there isn't much you can do but tip your cap and watch them lose to the Yankees in October once again.
2010 will be remembered as a season of streaks.  We lost the division playing terrible baseball in April and May and found ourselves 9 games back at the start of June.  When the weather warmed up in Chicago the White Sox were the best team in baseball all summer including a red hot 25-5 run.  We saw Alexei have his best all around year, Omar Vizquel play like he was 24, Konerko have maybe the best year of his career, and Juan run wild on the base paths.  As the summer came to an end the bullpen and pitching wore down and we just didn't play well enough within the division to win it.  Not even Manny being Manny could save our season.
Season Highlight:  Mark Buehrle's play of the year on Opening Day.  I was trying to figure out whether I'd wear my Bo Jackson jersey or a White Sox sweatshirt to Game 1 of the World Series right after the game.
Season Lowlight: Jim Thome's monster walk-off homer against Matt Thornton on August 17th.  We all knew the season was over right then as we fell to 4 back instead of being just 2 back in the division.  Hawk was so devastated that he didn't even say a word after the ball was hit but we all know he just kept mumbling under his breath, "That man is country strong."
It should be a very busy and interesting offseason as the front office decides what to do with Konerko, A.J, Jenks and other valuable pieces.   I will keep you all up to date on any major White Sox happenings throughout the offseason and I look forward to seeing everybody for Opening Day 2011.