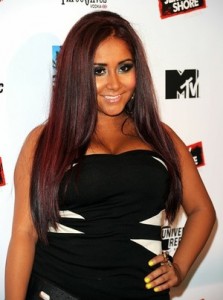 It looks like the latest legal drama for Nicole "Snooki" Polizzi is over — at least for the time being. The "Jersey Shore" star was released by authorities on Friday after filing charges for disorderly conduct.

The Chief of Police gave this statement about the incident to Us Magazine:

"On Friday at approximately 15:23 hours, Nicole Polizzi was acting in a disorderly matter while on the beach… Miss Polizzi was escorted from the beach by patrolmen and placed under arrest for disorderly conduct … near the boardwalk. She was transported to police headquarters and later released on a summons."

A spokesman for the department ultimately said that Snooki will ultimately end up getting a fine following the incident. More than anything, the real punishment for her crime is the public humiliation.
Ummm did you just say the real punishment is public humilation? Clearly someone doesnt watch Jersey Shore. I'm pretty sure Snooki has humiliated herself publically more than any person in the history of the world.