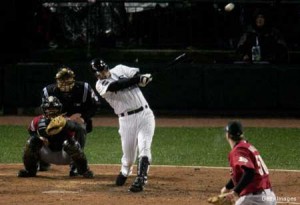 The White Sox agreed to a 3 year/$37.5 million deal with fan and clubhouse favorite Paul Konerko.  The best way I can describe this deal is "fair."  Konerko probably could have got $15 million from a club like the Orioles and the White Sox probably could have played hardball and tried to only give him a two year deal since he turns 35 in a few months.  In the end, PK once again gave us a hometown discount with a lot of deferred money and will most likely get to retire in the black and white uniform that he wants to.
This deal was an absolute must in order to compete with the AL Central champs up in cake eater land.  I'm really excited about the 2011 White Sox….we have a mix of speed, power, and great starting pitching.  I still think Kenny has a trade up his sleeve and will unload a starter to get some bullpen help and reduce payroll.  Either way, the front office went all in and increased the payroll in a bad economy….now it is up to us to fill the seats and support the team.
For the time being its back to freezing cold weather….just 4 months until Opening Day.