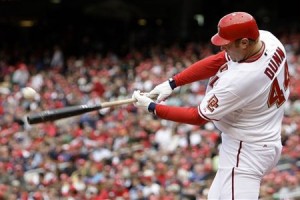 White Sox and Adam Dunn have agreed to a 4 year deal worth $56 million.  This is a big time move and this is why I love having Kenny Williams as my general manager.  He is always going to take a gamble, even if he swings and misses once in awhile (Peavy).  Adam Dunn provides the left handed power bat that the team missed last year.  Unless you really liked Vizquel or Kotsay at DH, you have to love thinking about the donkey smashing homers on the southside next summer.
I don't want to hear about the people who are going to complain:  "He strikes out too much," or "He can't hit for average."  Yes, Adam Dunn strikes out a lot and yes, Adam Dunn doesn't hit for average.  You know what Adam Dunn does do?  He hits 40 homers, has 100 rbi's, and walks 100 times with a great on base average.  You can count on that.
Hopefully having Dunn hitting 5th will convince Konerko to take a bit of a hometown discount.  I just got a chub thinking about the slowest power hitting combo of all time hitting back to back.
And please, just a moment of silence for Bobby Jenks.  Thanks for the memories.