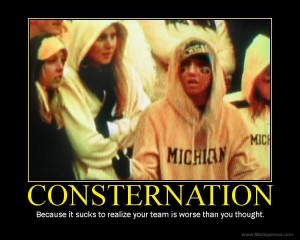 The Hot Glove is taking its weekly picks show on the road this week to beautiful Bloomington, Indiana.  That's right your boy Danimal is going to the IU vs. Michigan game to see the Hoosiers trounce the most overrated team in the country, the Michigan Wolverines.   I'll be collecting all the inside info you people have come to expect.  I'm talking interviewing players, slapping Rich Rodriguez in his smug face, and spitting game at ESPN's newest minx Jenn Brown.  Might have to make a keyhole video of her if she's staying at the Motel 6 like I am.  Here's this week's picks:
Oklahoma St. -3 vs Texas A&M
Utah St. +5 vs BYU
Indiana +10.5 vs Michigan
UConn -7.5 vs Vanderbilt
Virginia Tech -4 vs NC State
Air Force -10 vs Navy
Illinois +17.5 vs. Ohio St.
Penn St. +7 vs Iowa
Oregon -7 vs Stanford
PS
When I say I'm going to the game, I really mean I'll be supporting the team from the tailgate field.   Got my portable tailgate all setup, keg tub filled with Keystone Light and Rumplemintz, and am ready to spit game at the new freshman chicks.
Last Week 3-4
Season 18-8-2