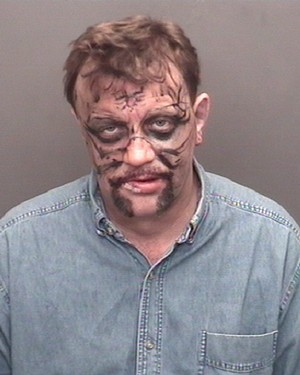 EVANSVILLE — An Evansville man who painted his face and allegedly tried to attack someone with a sword early Wednesday was arrested, according to an Evansville Police Department probable cause affidavit.

Ricky Lee Kalichun, 45, is in Vanderburgh County jail on a $50,000 cash bond. He has been preliminarily charged with intimidation with a weapon and public intoxication.

According to the affidavit, a man called police about 12:24 a.m. and reported that Kalichun tried to attack him in the hallway of an apartment building at 315 SE King Blvd.

Police said they found Kalichun on the fourth floor with a camouflage coat and black marker markings on his face and immediately arrested him.

Police said Kalichun smelled strongly of alcohol and had a large sword on him.

The victim — who told police he and his wife were homeless and had been staying with someone at the apartment — said he got word that an intoxicated man was downstairs and needed his help, the affidavit said.

The victim told police he used to room with Kalichun and had him come up to the apartment. Kalichun then allegedly began unplugging a television and stated that a video game console and some games were his.

The occupants then got Kalichun in the hallway, the affidavit said, and he allegedly pulled out the sword and began swinging at the victim.
You can tell me Ricky Lee Kalichun was drunk. You can tell Me Ricky Lee Kalichun was trying to steal a Playstation. You can even tell me Ricky had a sword and was swinging it violently. But don't you dare fucking tell me that anyone actually saw Ricky Lee Kalichun do any of these things. That would be like me saying I can see ghosts.
Look at Ricky's face. Oh that's right, you can't, because Ricky Lee Kalichun is camoflauged to absolute perfection. Guy is practically invisible.
All I know is that the playstation owner better pray to god Ricky doesn't put on his camo for court. Everyone knows you can't try something you can't see. They teach you that on the first day of law school.
…