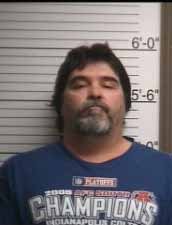 Nashville, Indiana (The Weekly Vice) - Kyllie R. Smith, a 40-year-old Nashville man was jailed Sunday after he allegedly assaulted his wife with a Christmas tree.

According to police, Smith's children called police to report that their father had picked up a Christmas tree and swung it at his mother, hitting her in the head. He then threw the tree, hitting her on her back.

Investigators say Smith's wife was taken to Bloomington Hospital for evaluation. Her condition has not been reported.

Smith was booked into jail and charged with domestic battery in the presence of a child under 16, a Class D felony.
Typical fucking Colts fan. Not bad enough that this guy has to raise his hand to a woman which is disgusting in its own right but he also has to ruin christmas too. And People always wonder why Colts fans get such a bad rap. Its because if they aren't dressing up like lunatics and fawning over a 1 time super bowl champion they're hitting their wives with a christmas trees and ruining christmas. There is nothing else. Its those two things or sleeping.